Rooted and Resilient: 2023 Annual Meeting a Success
by Rita-Lyn Sanders, Director of Marketing and Communication
GRAND JUNCTION, COLO. - (Sept. 1, 2023) 
Wow! Just a few weeks ago on August 3, my first year at Grand Valley Power culminated in the 2023 Annual Meeting of our Members. I have to admit, I was incredibly nervous going into my first major GVP event. But now that it's behind me, I am more confident and already looking forward to the next one.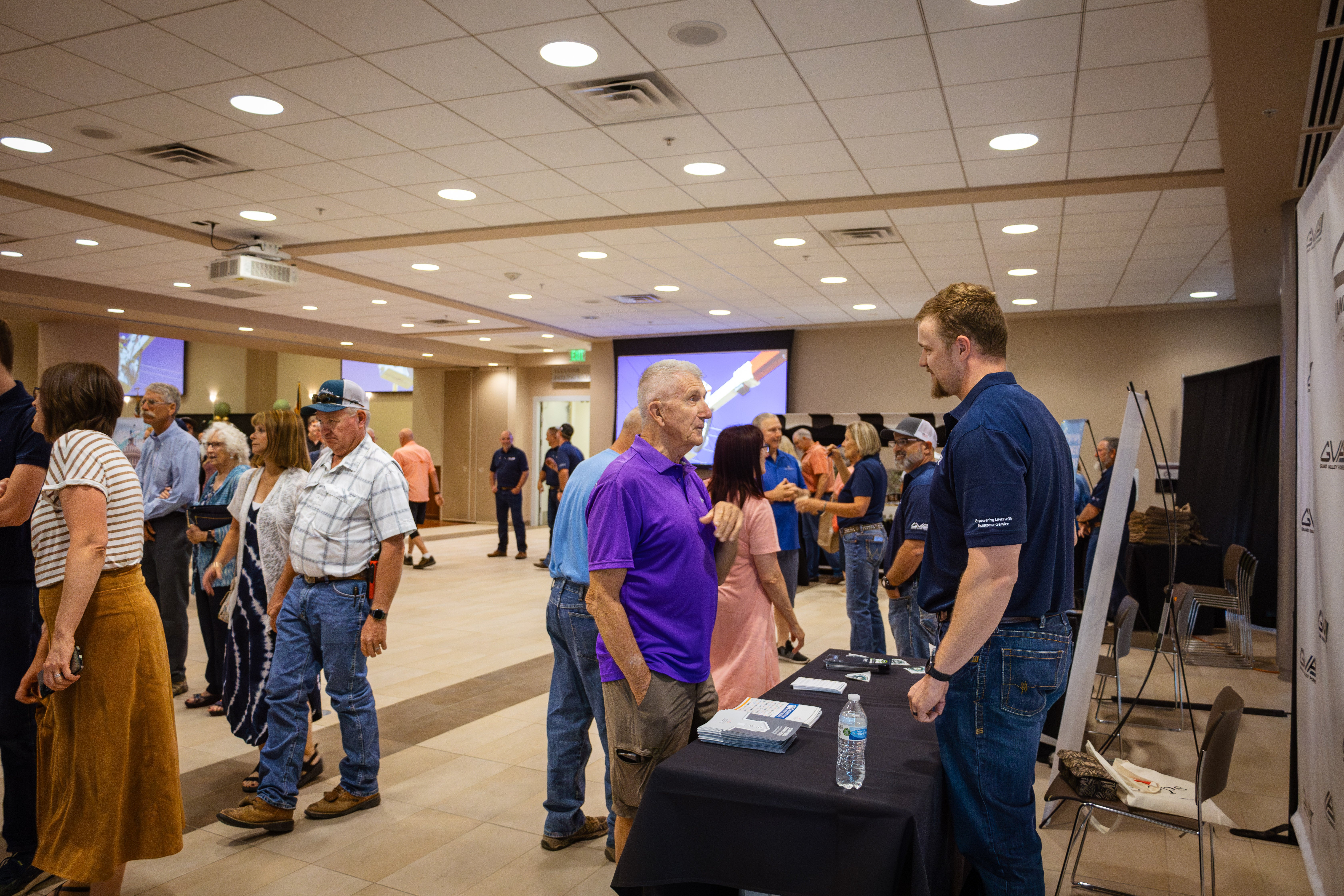 The 2023 Annual Meeting highlighted everything that I love about our cooperative community. From the engaging membership and our purpose-driven partners to the professionalism of our employees, it made me a little teary-eyed to wear my navy blue, GVP-emblazoned polo and cowboy boots. More than 475 people, including members, directors, guests, employees, and retirees enjoyed a meal, good company, and heard about the many achievements that have come out of our cooperative over the past year.
To start the event, attendees received a reusable tote bag with an exclusive "Rooted and Resilient" logo and picked a canned peach product packed locally by Alida's Fruits. This social-impact business partners with STRiVE to support and employ individuals with disabilities in the Grand Valley. We are excited to support their dignifying and inclusive mission.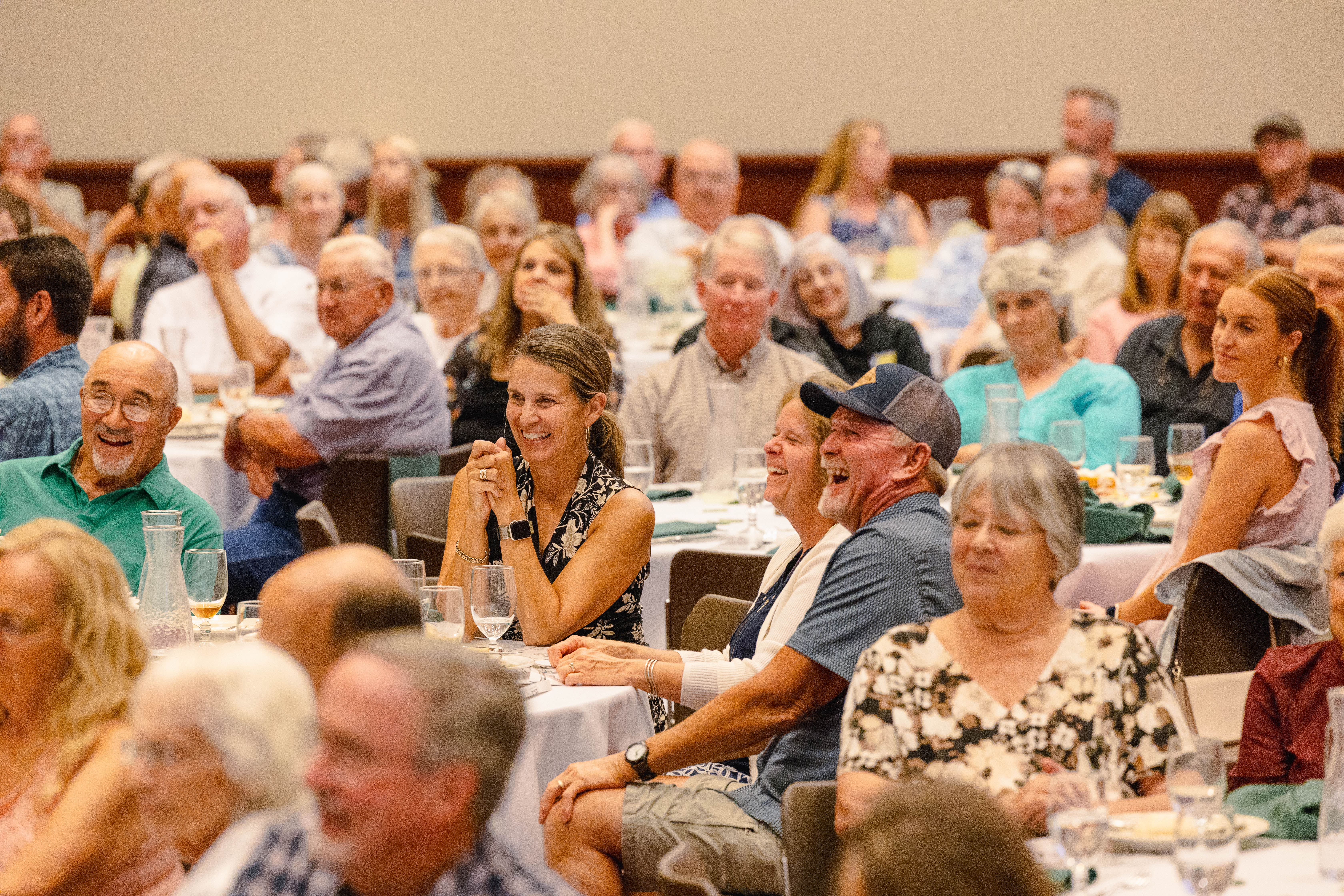 And let's not forget to mention the delicious dinner — complete with whippedcream topped strawberry and lemon desserts — and amazing door prizes, including several bill credits and gift cards, Avalanche tickets donated by our friends at Alpine Bank, and $500 in electric lawn tools donated by our future wholesale energy supplier, Guzman Energy. Thank you also to our partners Western United Electric Supply and Cooperative Financial Corporation and to local businesses VanWinkle Ranch Beef and JR's Carriage Service for their donations to the prizes.
We also want to celebrate the assistance of the Fruita Monument High School FFA students who helped with parking and the staff at Colorado Mesa and Sodexo for their services.
I would be remiss if I didn't also spend a few words focusing on Grand Valley Power's achievements of the past year. These bring to light our cooperative's Rooted and Resilient character and highlight the cooperative principle of Concern for Community:
Announced the future transition to Guzman Energy as our new wholesale power supplier
Contributed $60,000 to local community organizations and events, and youth scholarships that exceed $20,000
Received a 4.88 (on a 5-point scale) member satisfaction score
Attained the critical benchmark of safety and celebrated the fourth consecutive year of no lost-time accidents
These accomplishments are all meaningful ways that we demonstrate — every day — our commitment to providing safe, reliable, and affordable power to you, our members, and empowering your lives with hometown service.
Something we introduced at this year's meeting to help ensure we are engaging with and meeting the needs of our membership was a question and answer session. Members could submit a question with their online RSVP. From among our 250-plus members who RSVP'd, we received 13 questions on topics such as rebates, solar, time-of-use rates, our future wholesale power supplier, and disconnects. Derek Elder, our Chief Administrative Officer, and Tom Walch, our Chief Executive Officer, took the time to make sure we answered these questions at the meeting for all our members.
I have coordinated many events in my career, but this was the largest-attended and most logistically detailed event I've ever managed. The attention and care that Grand Valley Power puts into serving our members and providing the most engaging experience is second to none. Our employees just jump in and go to work for you.
If you missed our wonderful annual meeting, I invite you to watch the 2023 Business Report video on YouTube. This video was part of our meeting and highlights GVP's accomplishments, tells the story of one of our members, and explains the "why" behind time-of-use rates. Scan the QR code or visit gvp.org/roots to find the video.
Thank you to all our members who attended GVP's Annual Meeting. I'm already making plans for next year's event; and after being greeted by so many friendly members this go around, I won't be as nervous — I look forward to seeing you there.