30.13% of GVP power is renewable
Renewable Energy Standards (RES), also known as Renewable Portfolio Standards (RPS), are policies designed to increase generation of electricity from renewable resources. These policies require electric companies to acquire a certain minimum share of their electricity from designated renewable resources. Generally, these resources include wind, solar, geothermal, biomass, and hydroelectricity.
Grand Valley Power must generate or cause to be generated eligible energy in the following minimum amounts:
       1%     2008 - 2010
       3%     2011 - 2014
       6%     2015 - 2019
     10%     2020 and thereafter
For compliance years 2020 and thereafter, Grand Valley Power must also supply 1% of its retail sales from renewable distributed generation, of which 50% must be from retail renewable distributed generation.
The report filed with the Colorado PUC for compliance year 2018 is available at the link below.
* In accordance with Colorado Revised Statute § 40-2-124(5.5) Grand Valley Power filed its 2018 Annual Compliance Report with the Colorado Public Utilities Commission on May 31,2019. This filing reflects renewable energy credits delivered by Xcel Energy to Grand Valley Power in accordance. Information provided by Xcel Energy since this filing,indicatesthat Xcel Energy underdelivered renewable energy credits to Grand Valley Power. The 30.13% renewable energy figure shown above reflects the actual renewable energy provided by Grand Valley Power to its consumers in 2018.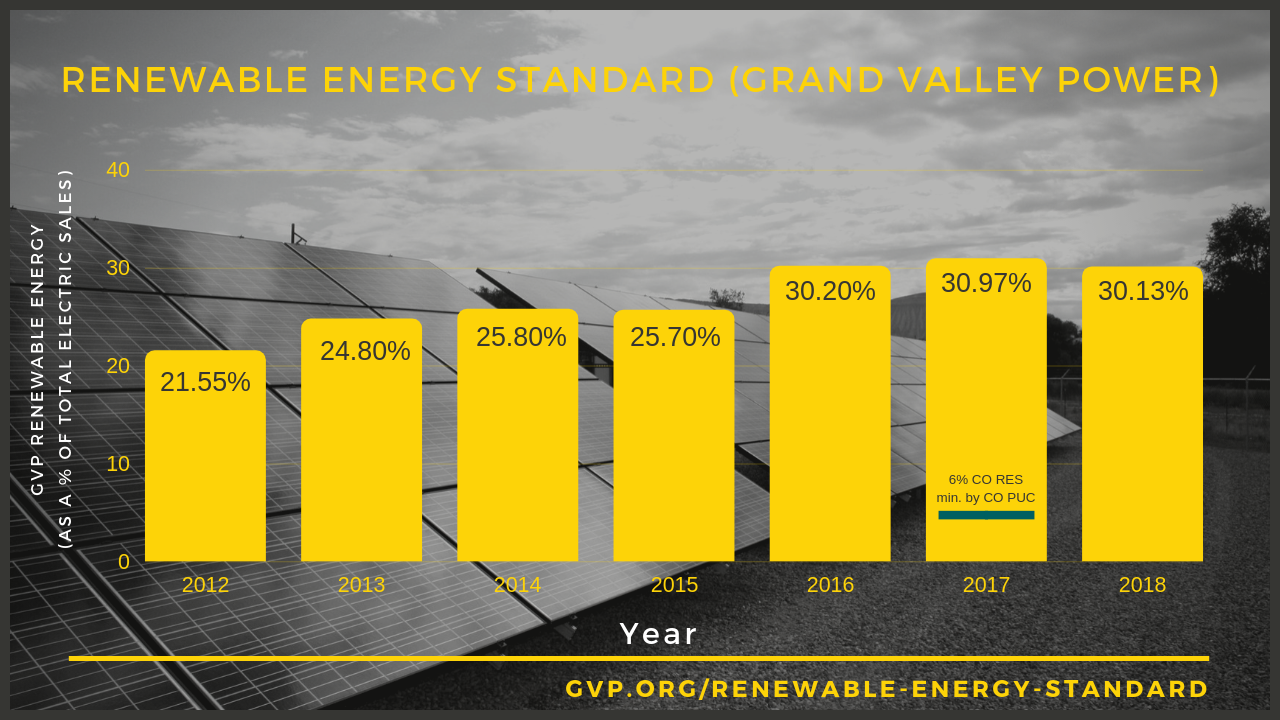 Community Solar
Colorado Energy Office and GRID Alternatives - Grand Finale Capstone at Grand Valley Power