Build a kit for your family, and consider the needs of each family member (including pets or animals). Being prepared means having your own food, water and other supplies to last for at least 72 hours. A disaster supplies kit is a collection of basic items your household may need in the event of an emergency.
To assemble your kit, store items in airtight plastic bags and put your entire disaster supplies kit in one or two easy-to-carry containers such as plastic bins or a duffel bag.
A basic emergency supply kit could include the following recommended items:
Water - one gallon of water per person per day for at least three days, for drinking and sanitation

Food - at least a three-day supply of non-perishable food

Battery-powered or hand crank radio and a NOAA Weather Radio with tone alert

Flashlight

First aid kit

Extra batteries

Whistle to signal for help

Dust mask to help filter contaminated air and plastic sheeting and duct tape to shelter-in-place

Moist towelettes, garbage bags and plastic ties for personal sanitation

Wrench or pliers to turn off utilities

Manual can opener for food

Local maps

Cell phone with chargers and a backup battery
*List adapted from Department of Homeland Security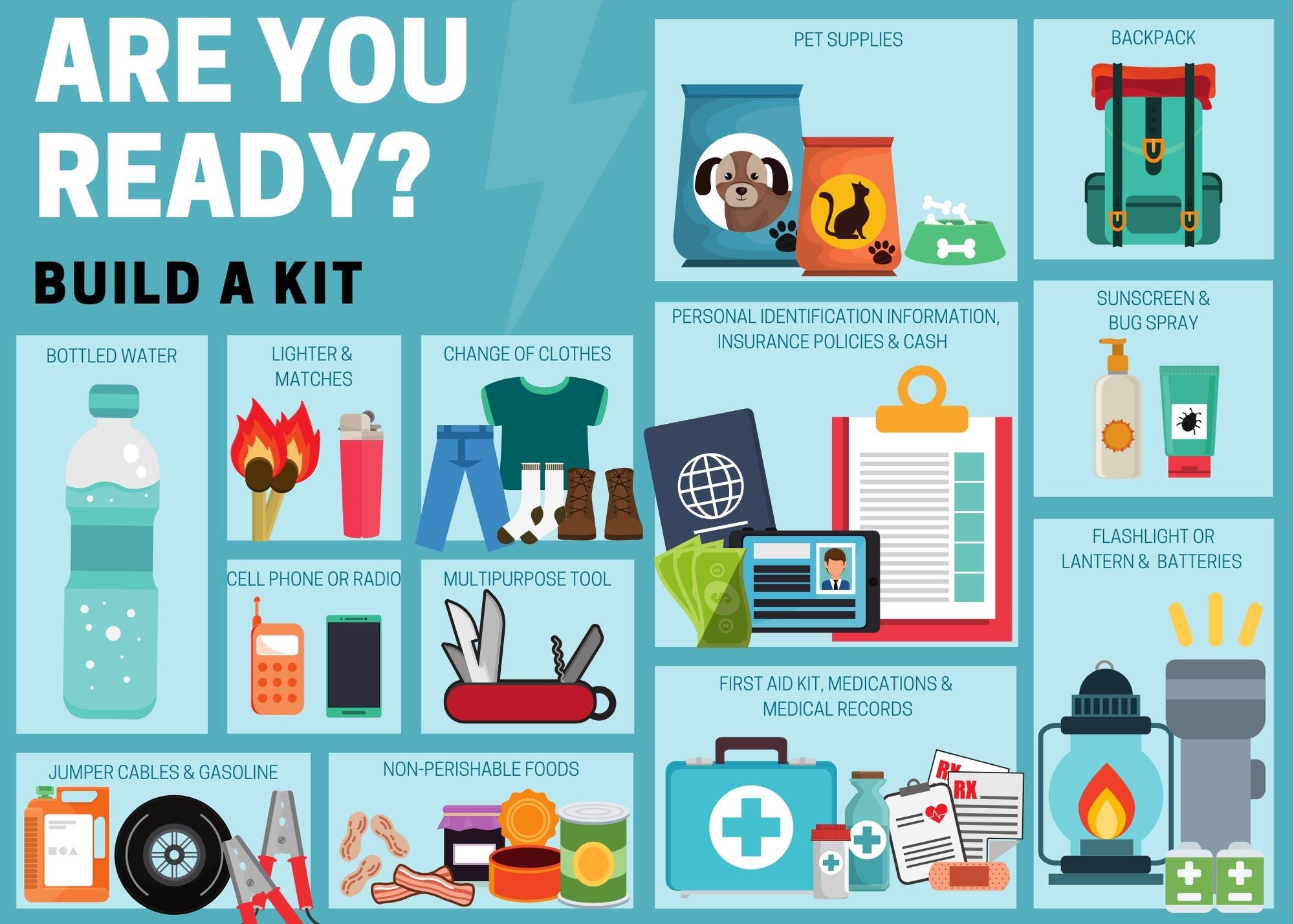 full width paragraph
Pro Tips: During a Power Outage

Is the power outage isolated to your home or is it systemwide? Check with neighbors to see if their power has also gone out.
It may sound counterintuitive, but one of the first things you should do during a power outage is unplug any electrical appliances or electronics to prevent spikes once the power is restored. Ideally, sensitive electronics or devices should be on surge protectors to prevent damage. 
Turn the air conditioner off to prevent a surge once the power comes back on. 
Keep the refrigerator and freezer doors closed so food stays cold. 
During the winter, dress in layers to stay warm. Check on your neighbors during prolonged outages.
Use a flashlight or other battery-powered lights instead of candles, which pose a fire hazard. 
Leave one light on so that you're able to see when the power is restored.
When the power comes back on, wait a few minutes before turning on the main switch. To give the electrical system a chance to stabilize, turn on essential appliances first, then gradually turn on other electronics. 
Reset digital clocks, timers, alarms, network routers and other essential items. 
If you opened your automatic garage door manually using the emergency release cord during a power failure, you'll need to reconnect the door to the opener. See the manufacturer's instructions for details. 
If your HVAC won't turn on after a storm, you may need to restart it. Some units require you to turn off the thermostat, reset the circuit breaker and wait a period of time before restarting the system. Other models may require some other combination of steps or even have a reset button. Check the owner's manual for restart instructions for your unit. If you have any doubts, or if the circuit breaker shuts off again after resetting it, call a professional.
If the power outage was the result of a storm, flood or other natural disaster, check your property for damage. Report any fallen power lines. Don't touch or go near any downed lines.
If food has been exposed to temperatures 40 degrees F or higher (4 degrees C) for two or more hours, harmful bacteria can develop, so you should toss it out. This is especially true of perishable food, like eggs, meat, fish, poultry, soft cheeses and most dairies, if the power has been off for four or more hours.
Replace any items in your emergency kit used during an outage. 
Develop an emergency plan that includes a list of emergency contacts, evacuation route and how you'll receive emergency warnings and alerts. 
Consider using or purchasing surge protectors to help protect your electronics.