Co-op Membership Pays
It's time for you to get the credit —CashBack Credits, that is― for helping build, sustain, and grow your local electric cooperative.
When you signed up to receive electric service from GVP you became a member of an electric cooperative. While investor-owned utilities return a portion of any profits back to their shareholders, electric co-ops operate to provide a service at cost. So, instead of returning excess funds, known as margins, to folks who might not live in the same region or even the same state as you do, GVP allocates and periodically refunds member credits based on how much total electricity you purchased during a year. In 2020, Grand Valley Power sent over $1.4 million in CashBack Credits to members just like you! You may have seen these credits described as "capital credits" or "patronage capital" in the past.  
How It Works
GVP members will receive two notices:
1) Member Capital Allocation - First, an allocation determines each member's share of the cooperative's margin for a given year. Margins are allocated or assigned to members who purchased electricity from the cooperative during the year in which the margin was generated in, proportion to the total revenue for the year. Each member's allocation is determined by the total electricity purchased for the year. The co-op keeps a permanent record of each member's capital account, which is where the allocated amount remains until it is paid or "retired." This notice usually is sent out late spring, or after the audited financials are presented and approved by the board of each year.  This is NOT a bill or bill credit applied to your account. 
2) CashBack Credits - After reviewing the financial health of the cooperative, the Board of Directors may declare a retirement, at which time part of each member's capital allocation amount is refunded. CashBack credits are sent by mail (usually in December) in the form of a check. 
For more information on Member Capital Allocation and CashBack Credits, read the following Q & A: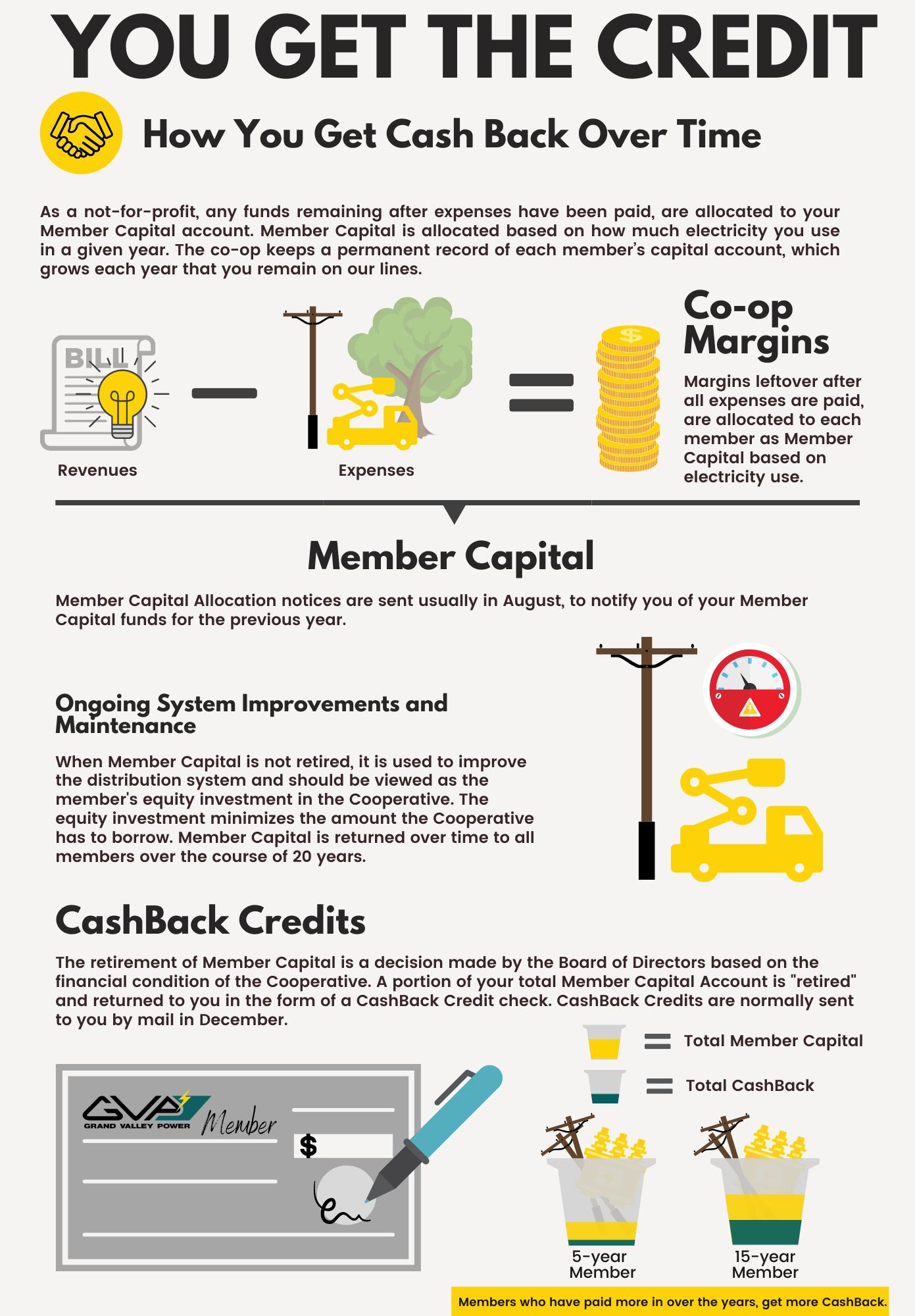 FAQ's About Member Capital and CashBack Credits
An electric cooperative operates on an at-cost basis by annually "allocating" to each member, based upon the member's purchase of electricity. This is simply a notice of what was allocated to your Member Capital Account, and varies each year based on the electricity you use. Later, as financial condition permits, these allocated amounts are retired and paid out as CashBack Credits to members in the form of a check that is payable to the member listed on the account. 
Member-owned, not-for-profit electric co-ops set rates to generate enough money to pay operating costs, make payments on any loans, and provide an emergency reserve. At the end of each year, we subtract operating expenses from the operating revenue collected during the year. The balance is called an operating "margin."
Margins are allocated to members as Member Capital and is based on total revenue that was collected from your energy use. Member purchases may also be called "patronage". GVP strives to return member CashBack Credits to consumers on a 20-year cycle, with the oldest member capital accounts paid out first.
Each year, the GVP Board of Directors makes a decision on whether to retire member capital based on the financial health of the cooperative. During some years, the co-op may experience high growth in the number of new accounts, or severe storms may result in the need to spend additional funds to repair lines. These and other events might increase costs and decrease member equity, causing the board to reduce the member capital retired in a given year. For this reason, GVP's ability to retire capital reflects the cooperative's strength and financial stability. The board alone decides whether to retire, or pay out, capital accounts and the percentage. 
The GVP Board of Directors makes a decision each November whether or not to retire member capital. When the cooperative is strong enough financially and member equity levels are high enough, the board directs staff to retire some portion of past years' member capital accounts.
Member Capital is a significant source of equity for most electric cooperatives. Equity is used to help meet the operating expenses of the co-op, such as paying for new equipment to serve members and reduces the amount of money needed to borrow from outside lenders to build, maintain, and expand a reliable electric distribution system.
If you move or no longer have electric service with GVP, it is important that you inform the cooperative of your current address, so that future retirements can be properly mailed to you. If you purchased electricity during the years being retired, then you are entitled to a CashBack Credit check, even if you move out of the GVP service area. If we have your current address, then we will send your check by mail.
The minimum a member will receive is $15.00. Members traditionally receive a check in December. Due to the expense involved in processing printed checks, $15 is the minimum check amount that will be issued to members. CashBack credit checks less than $15 are accumulated year-to-year until the sum is equal to or greater than $15.
Please contact our main office at 970-242-0040, or stop by at 845 22 Road, Grand Junction, Colorado. We can help you further with these situations. 
Unclaimed CashBack Credits
Last December, GVP returned over $1 million dollars in credit payments to both current and past cooperative members. Unfortunately, we can't always find everyone who has earned a CashBack credit if we do not have the correct address on file. 
We continue to keep an updated list of unclaimed - or un-cashed - credit checks. 
Enter your first or last name below to search for any unclaimed credit checks. If you find your name listed, please contact GVP at 970-242-0040 to claim. 
When you do call, please be prepared with: 
Your previous service address(es)
The approximate dates you lived at your address(es)
Social security number associated with the account
Unclaimed CashBack Credits Search