Electric Vehicle — Time-of-Use Rate
The Electric Vehicle — Time-of-Use (EV-TOU) rate works like the General Service — Time-of-Use rate, but it's designed to help EV owners save. The biggest difference is that, with this plan, members can lower energy costs by charging their vehicle during overnight hours, between 11 p.m. and 7 a.m.
Members who switch from the General Service rate to the EV-TOU rate see a lower EV Charging rate which helps you save energy and money while decreasing peak usage during on-peak hours. 
With the EV -TOU rate, you can save money when you limit how much energy you use during on-peak hours. You'll enjoy even lower pricing during late-night off-peak hours.
The EV rate could be a good choice for you if:
You own or lease an electric vehicle. (It must be a plug-in hybrid electric vehicle or battery electric vehicle.)

Hybrid Electric Vehicles (HEV) models that do not plug in are ineligible. 

You're able to charge your vehicle at home between 11 p.m. and 7 a.m.
You're able to use less energy at home during on-peak hours. (During these hours, energy is more costly.
A copy of your current electric vehicle DMV registration and EV-TOU agreement are required to participate. Contact GVP at 970-242-0040 to learn how to apply!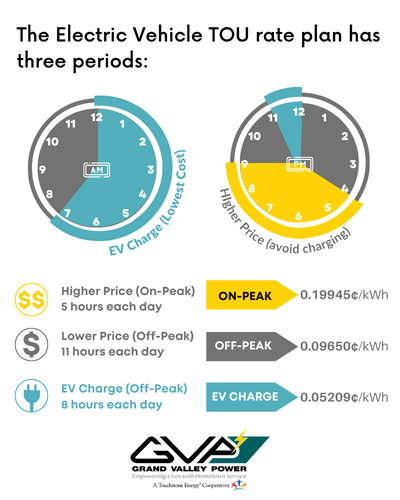 EV-TOU FAQ
Electric Vehicle - Time-of-Use (EV-TOU) is available to all residential consumers that own a qualified Electric Vehicle that is charged on the served premise. This rate is limited to consumers whose load requirement does not exceed 50 kW and is a single-phase service type. 
Other requirements include: 
DMV Registration is required on an annual basis; 
EV-TOU members require an enhanced meter with two-way communication capabilities; 
EV-TOU is a month-to-month service and is non-transferable to other service locations.
Vehicle-to-Grid (V2G) interconnections are not allowed.
Ineligible members include: 
Multi-family housing units that currently are on shared metering.
Commercial Small Power, Large Power or other members with service needs that exceed 50 kW. 
For terms and conditions, please review the EV-TOU rate application. 
Electric vehicles that are eligible for the EV-TOU rate typically are under the classification of Plug-in Hybrid Electric Vehicle (PHEV) or Battery Electric Vehicle (BEV). Hybrid Electric Vehicles (HEVs) are ineligible. Learn more about EV vehicle types here.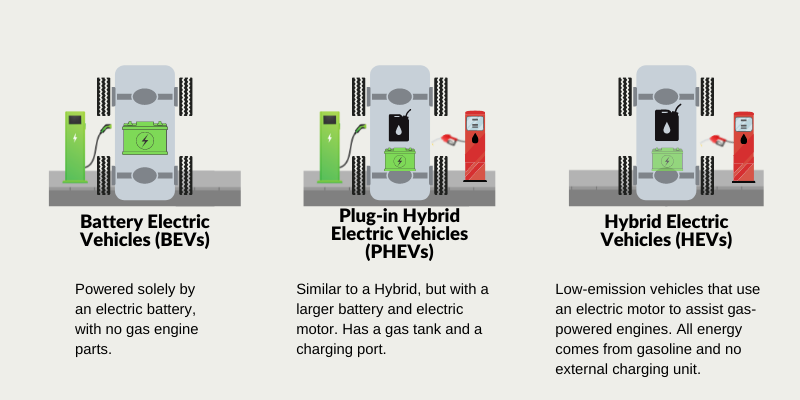 A current Department of Motor Vehicle registration is required along with a completed application. Typically, a DMV registration will display fuel type as "electric" or "electric/gas".
Example below: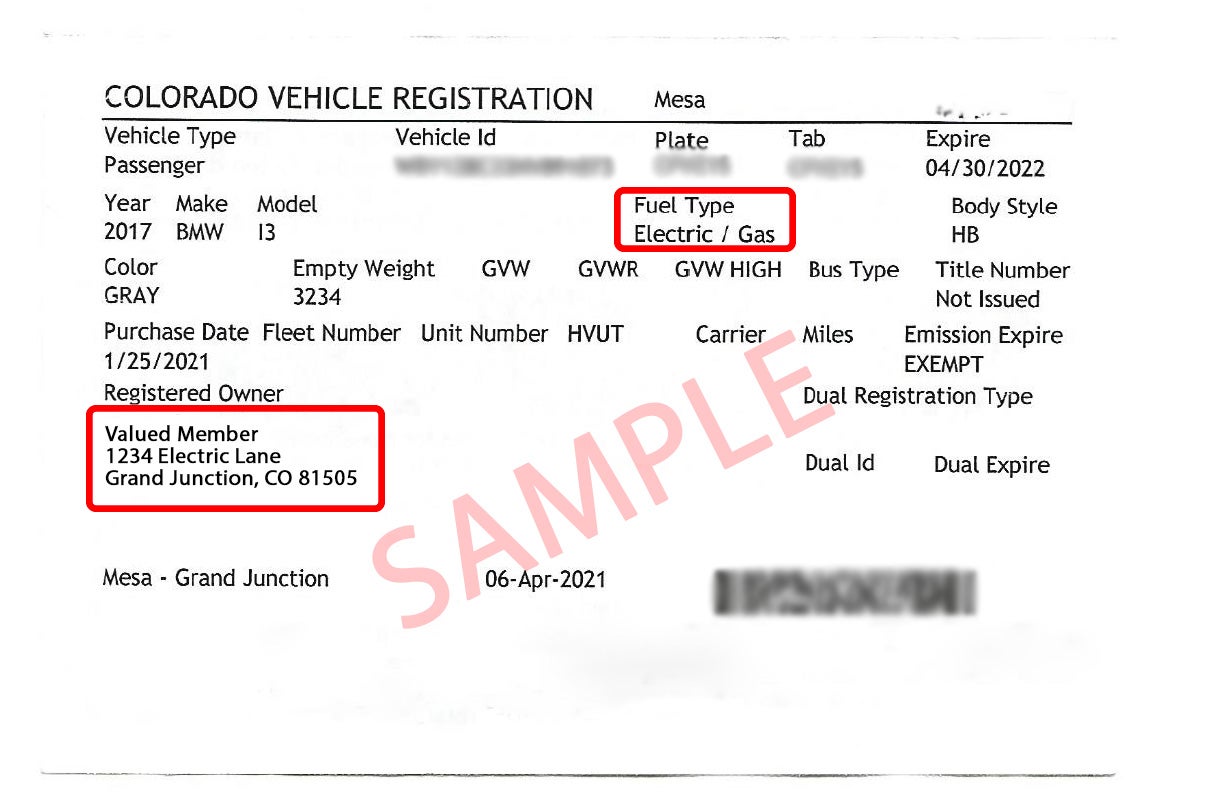 For a list of eligible vehicles please visit the U.S. Department of Energy Alternative Fuel Vehicle Search. You can download a complete list of current vehicles that use electricity as the fuel source (on the upper right hand side of the page). Please note, that this list does not include older models of vehicles. 
No, a separate meter is not required for the EV-TOU rate, as this rate will be for the whole home. This program encourages members to charge at home during the preferred charging times from 11 p.m. – 7 a.m. daily. 
The program is designed to encourage members to charge overnight when the electric grid typically has lower use. This will create grid efficiency that supports downward pressure on rates. The EV Rate is optional, and not required by EV owners. However, we want to spread awareness of the optional rate because it will encourage usage that promotes electric grid efficiency, resulting in cost savings that all members benefit from this. 
Under this optional rate, electricity costs different amounts at different times of day. The EV-TOU rate maximizes your savings when charging at home by using a special rate that is designed to encourage EV charging during the "EV Charge" times. 
There are three time periods for the EV-TOU rate: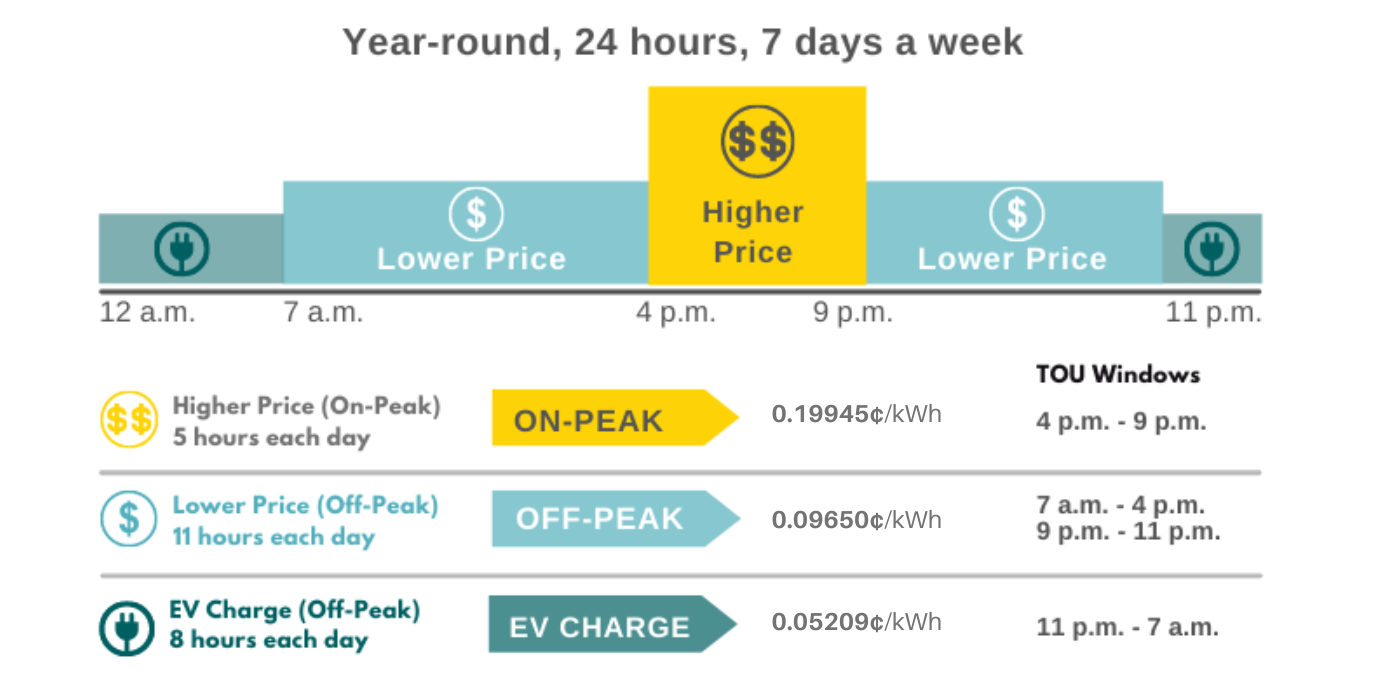 Costs on the EV rate are lowest from 11 p.m. to 7 a.m. every day, including weekends and holidays when demand is lowest. This is the best time to charge your vehicle.
To sign up for the EV-TOU rate, please complete the interest form located above or contact us at 970-242-0040 to get the process started. The following items are required for the application: 
Current Colorado DMV Registration
Registration name and address must match GVP service address and account holder name to qualify. 
Registration must indicate vehicle is electric fuel type.
GVP Account Number 
Located on your billing statement or you can find this number by logging in on SmartHub (via app or computer). 
EV Details - Year, Make, Model
Charging Details - Plug-in charger or hard-wired, model/brand, volts and electrical inspection date (if hard-wired). 
Our member service representatives will follow up with you on any additional needs and confirm when the EV rate is effective on your account. This will depend on your billing cycle and when you complete all the necessary requirements for the EV-TOU rate. 
Please contact our office at 970-242-0040 or stop by Monday through Friday from 8-5 p.m. to fill out the application in person with the following items above. 
IMPORTANT REMINDER: Example eligible registration below. Applications missing a valid registration or a registration that does not have a matching service location address will be denied or delayed.