Relief Fund - Frequently Asked Questions
This fund is reflective of our mission - Empowering Lives with Hometown Service. We strive to do the right thing, holding true to our values and principles and our greatest concern - is you.  This is part of hometown service that we feel sets us apart. Our Board of Directors is dedicated to help our membership during these trying times. During the April board meeting, the director's allocated $100,000 in bill relief funds for member households who have dealt with adverse financial consequences by COVID-19. 
Grand Valley Power will provide electric bill payment relief in the form of a $100 bill credit to members who need it most. Funds will be distributed as bill credits to those who qualify. If your application is approved, you will receive a one-time credit on your next monthly bill. Applications will be reviewed on an ongoing basis and are subject to approval and available funds.
Eligible applicants include: 
Active residential Grand Valley Power member accounts (under FH1 Tariff Rate).
Members who demonstrate financial hardships due to COVID-19 (Coronavirus) crisis. 
Members who have received service with GVP for at least 30 days prior to application. 
You can find out what rate your account is under by looking on your bill, either online through your online SmartHub account (mobile or web) or your most recent mailed bill. Please see the example below on where to find this information.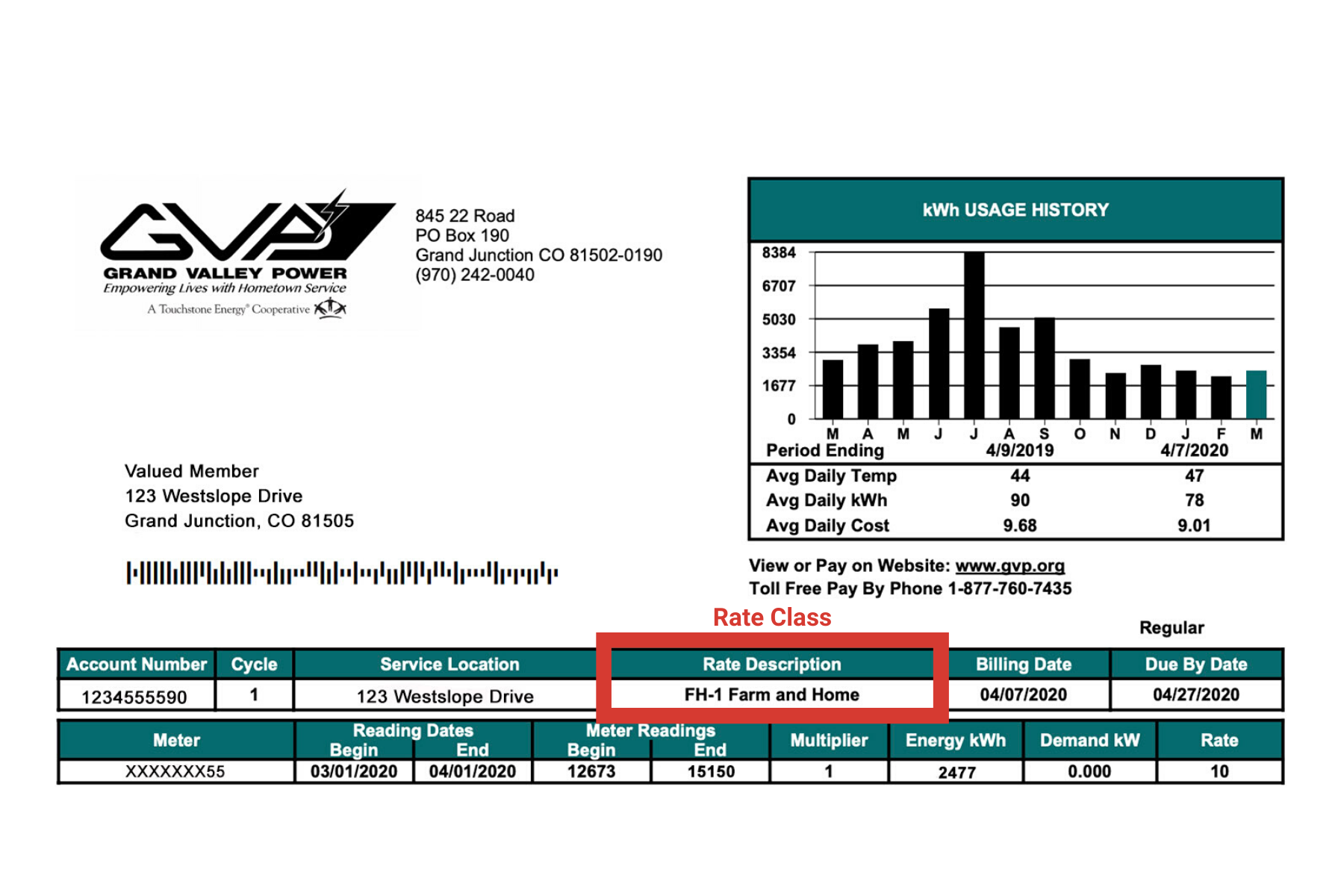 There are some member accounts that may not be eligible, including: 
Industrial or Large Power accounts
Commercial and Small Power accounts
Non-residential General
Irrigation or Auxiliary Farm 
Other non-residential rates
If your account falls into this category and you are facing financial hardships due to COVID-19, please contact us to discuss flexible payment arrangements at (970) 242-0040. 
No, only one $100 one-time bill credit will be allowed for each membership. Our intent of this program is to impact as many members as possible. 
Complete the GVP Hometown Relief Fund Application by online submission (preferred method), or fill out the PDF application, print it and send by mail or through a drop box location at our main office, or at any City Market or Safeway (except Redlands location). 
At minimum, provide the following: 
Member Account Holder 

First and Last Name
GVP Account Number
Service Address
Phone and/or email (required for communications regarding relief funds)

Current account status (past due or not) 
Brief description of how COVID-19 has impacted your household
Acknowledgement of terms and account holder signature
Please be aware that we will process applications first come, first served by date and time received online, by mail postage stamp or drop box. 
GRAND VALLEY POWER HAS DEDICATED $100,000 TO THE GVP HOMETOWN RELIEF FUND. AWARDS WILL BE MADE ON A FIRST COME, FIRST SERVED BASIS UNTIL THIS SUM IS EXHAUSTED.
Examples of impact of COVID-19 on a household may include: loss of job, furlough or significant decrease of working hours, hospitalization, work closure or small business owner where industry was impacted. Other examples can include working in an industry like restaurant, retail, oil and gas, food/beverage service or construction where significant working hours were decreased and/or overall income has decreased. 
You can submit a completed relief fund application one of three ways: 
Through our secure online application (preferred method) or by phone,
By filling out the PDF, printing the application and sending in by mail or with your bill stub,
By filling out the PDF, printing the application and dropping this off via drop box.
Members who need an application sent to them, can call us at (970) 242-0040 or by emailing us at gvp-info@gvp.org. 
Please only submit and use the required form supplied. 
Additional Resources and Assistance Programs
Save Energy, Save Money
By following just a few of the simple tips, you can make your home or business more comfortable and easier to heat and cool--while you save money. Our resources include do-it-yourself videos, brochures, online tools and more. 
Essential Needs - Assistance Programs
Every day, hundreds of people need essential human services, and during this pandemic, it's more crucial than ever. Grand Valley Power wants to help guide you to those resources and help all we can, whether you're seeking employment, food pantries, help for an aging parent, affordable housing options, rent or mortgage assistance, support groups and ways to volunteer. 
Small Business Resources
This listing is produced and managed by the Office of Economic Development & International Trade of Colorado. The list is designed as a resource to Colorado's small businesses to find access to alternative funding sources beyond EIDL (Economic Injury Disaster Loan), PPP (Paycheck Protection Program) and other federal loans and programs.